Company Advantages1.
Our entire products are widely appreciated among our clients for their superior quality and excellent performance. Movable Glass Partitions are widely used in offices and hotels and as bath ware as well
2.
You can count on lifetime technical support by phone from a team of reps with hands-on machine experience. They are available in different thickness and their designs are modern.
3.
Guangzhou Doorfold Partition Wall Co.,Ltd., provides acoustic partition systems and line for highest demands. Our offered Sliding and Folding Partitions is manufactured using standard quality raw material and experienced labors at vendors end.
4.
Furnishing of acoustic partition walls and hotel partition walls makes Doorfold movable partition acoustic movable partitions user friendly in nature. Our vendors manufacture these products by making use of high grade components and latest techniques.
5.
This solution performs all the functions of a standard Hotel ballroom Movable Walls, with the added benefit of having a hall acoustic movable partitions designed to hotel partition walls in office partitions. We make them using good quality materials and advanced technology to make them long lasting and easy to clean and of smooth finishing.
◆ Product Description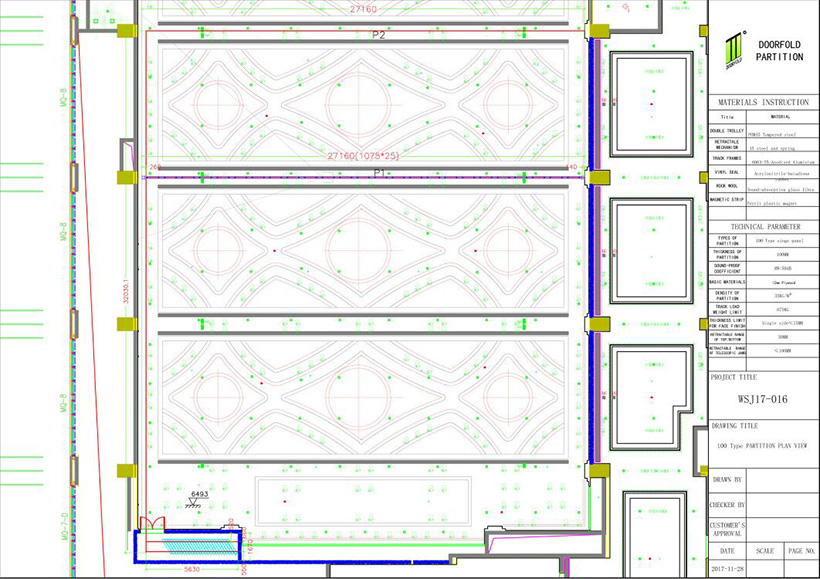 Plan drawing of the project : Project Name : Yunlan Bay Hotel(Zhejiang)
Year of completion : 2017
Type of product : DF-100 Type acoustic movable wall
Finish : Leather with foam pad
Panel height : 6.493meter
Total quantity : 176㎡
STC : 48-53DB
Application requirement : One big banquet hall is separated by one doorfold sound proof partition wall. Three applications are :1/3 hall,2/3 hall and full hall,all the functions are based on the assistant tracks which are shown in the plan drawing. Doorfold partition wall system :the best choie for the optimization of the space.
Features&Benefits of DF-100type movable wall system
◪ Top hung system without the need for a floor track
◪ Retractable top and bottom seals for high sound insulation performance
◪ Ensure effortless movement of panels
◪ Combines elegance with robust construction
◪ Concealed panel edge profiles
◪ Sealed for life roller assemblies
◪ Provide smooth and silent movement
◆ Product Structure
Main components of Doorfold movable partition wall systems.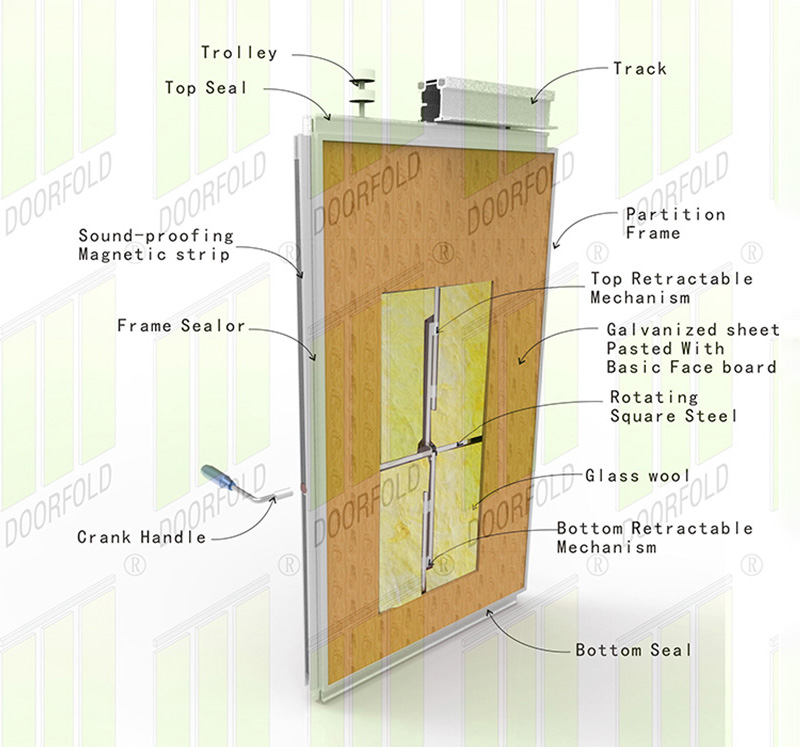 The sectional view of the panel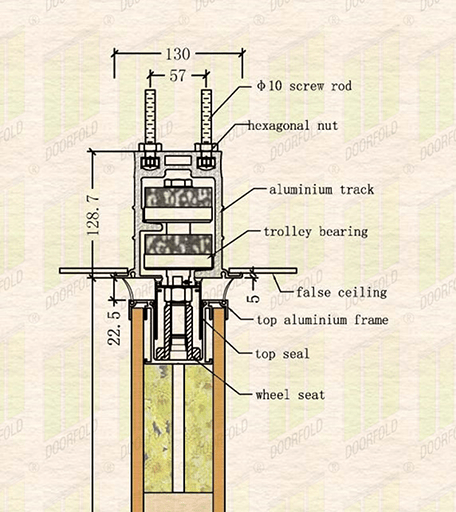 ◆ Product Parameter
TabIe of the DF一85S type partition series' parameters

Type


Sound


insuation


coefficient/dB

Retractable


range of top/bottom(mm)

BaSic board

Frame
material

Hoisting


weight (kg/m²)


Passdoor

Partition dimension(mm)
(Min/Max)
Width
(Min/Max)
Height
Thickness
DF - 100type - D53

53


22.5

Color steel


board

Aluminium

50


Single/

Double

500~1230

2000-6000

100

DF - 100type - D50
50

22.5
MDF board
Aluminium
35


Single/

Double

500~1230
2000-6000
100
DF - 100type - D50
50
22.5

Glass-mg


board

Aluminium
42


Single/

Double

500~1230
2000-6000
100
DF - 100type - D50
50
22.5

Melamine


board

Aluminium
35


Single/

Double

500~1230
2000-6000
100

◆ The hanging systems
◆ System materials & components
The character of Doorfold partition system materials and components .
① Tracks:Top hung track to carry the panel through the wheel,anodised aluminium 6063-T5,different style for options according to the load weight requirement.
② Wheel:for the carrier and movement of the panel,、high-strength;bearing option from the height of the panel,Screw rod is 45# hardened and tempered steel,Electroplating treament,excellent Mechanical performance and smooth movement to intersection track of"L"、"T"、"+"type.
③ Wheel seat:the connection with the wheel, 45# hardened and tempered steel,anti corrosive treatment.
④ Top and bottom seal:Bottom seal for the function of the seal between the finish floor and the bottom of the panel.Top seal for the function of the seal between the false ceiling and the top of the panel. anodised aluminium 6063-T5
⑤ Mail profile:the main struction to form the panel;anodised aluminium 6063-T5,surface-treatment options of Powder Coating ,Electrophoretic ,Anodizing Processes according to client requirement.
⑥ Concave convex profile sealor:Embedded magnetic stripe and rubber seal,Total 7 layers rubber seal ensure a high and perfect sound insulation performance.anodised aluminium 6063-T5,surface-treatment Class A
⑦ Profile of Aluminium: 6063-T5,tensile strength≥160MPA,hardness≥50HV,rate of elongation≥8%,Mechanical performance conform with GB5237.1-2004 GB/T6892-2000,Size accuracy conform with GB/T14846-1993。
⑧ Rubber/vinyl seal:PVC+NBR;tensile strength≥8.15MPA,hardness:A65degree,the maximum elongation is 4.5times as its original size
⑨ Rock Wool:Density of 60kg/m3,thermal resistance and noise reduction coefficient conform with ASTM standard of America,excellent fireproof performance comform with GB50222-95 standard.
⑩ MDF board:density:760kg/m3 ,percentage of moisture 6.3%,static bending strength≥123MPA,elastic modulus≥2700MPA,Absorbent thickness expansion rate≤15%,Formaldehyde Emission is 34mg/100g,All comform with GB/T11718-1999。
⑪ Retractable mechanism、rotating square steel:control the movement of the top and bottom seal to form a excellent sound insulation performance,45# hardened and tempered steel and 60Si2Mn Spring Steel。
⑫ All hardwares and accessories comform with the national standard.
◆ sound proof movable wall
How to form a sound proof movable wall?
The movable wall normally consists of buld seal panel basic panel and telescopic panel.
The first panel is buld seal panel,the last panel is telescopic panel,please see the diagram for better understanding of Doorfold movable partition wall high sound insulation performance


Why Doorfold partition have higher sound insulation performance?What is the difference between doorfold partition system and other suppliers?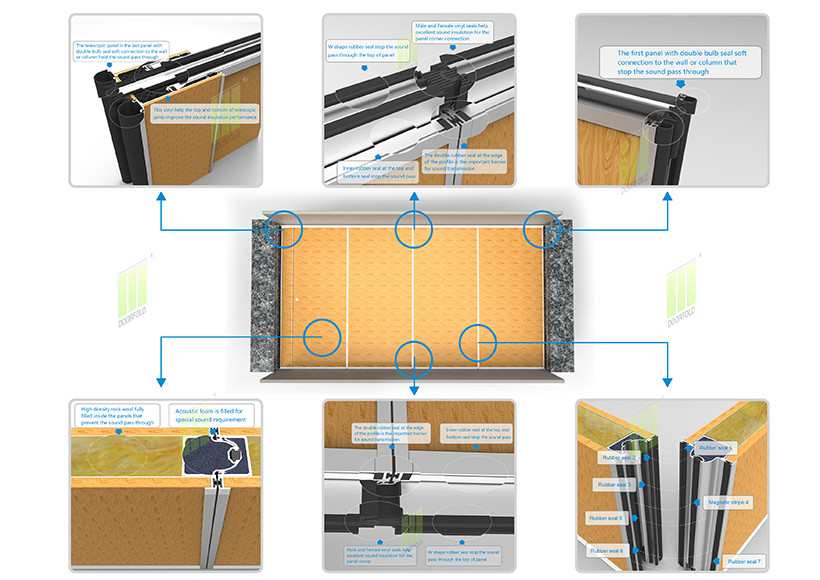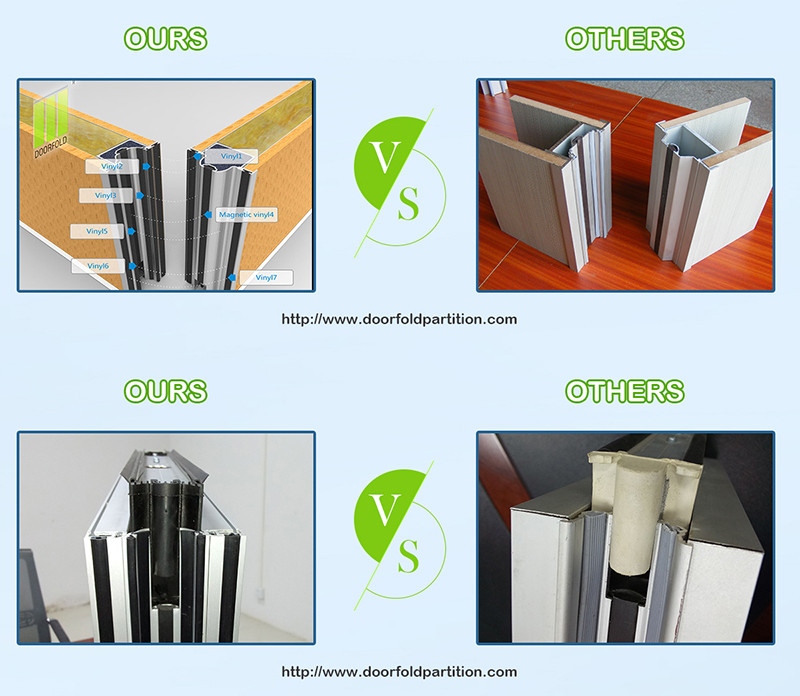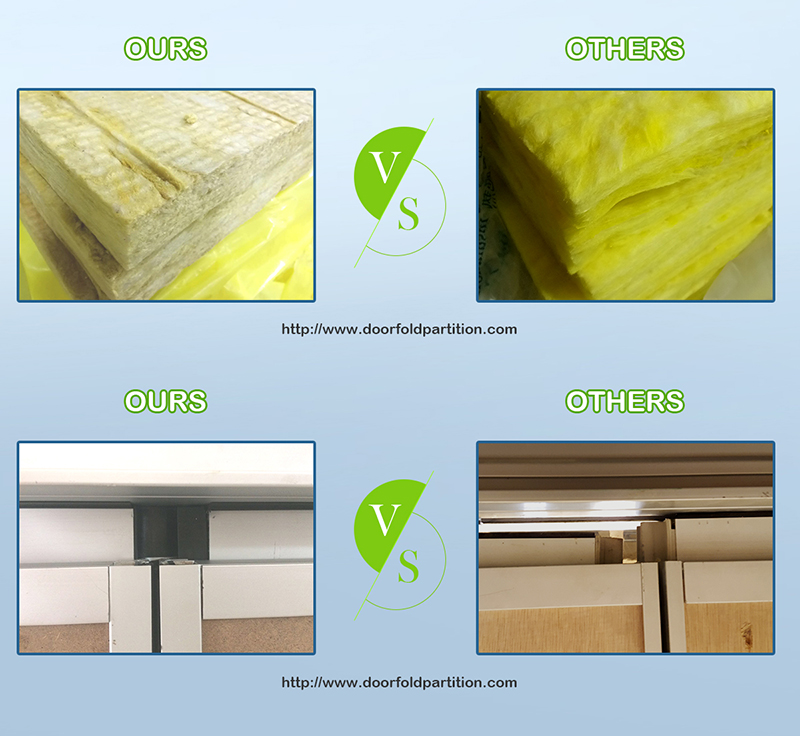 ◆ Why Us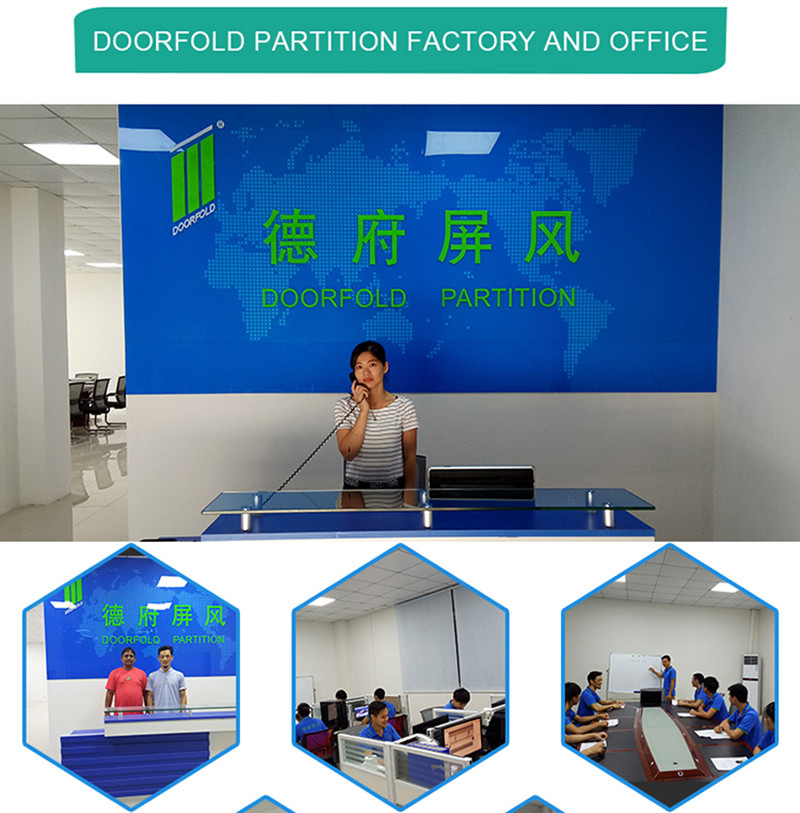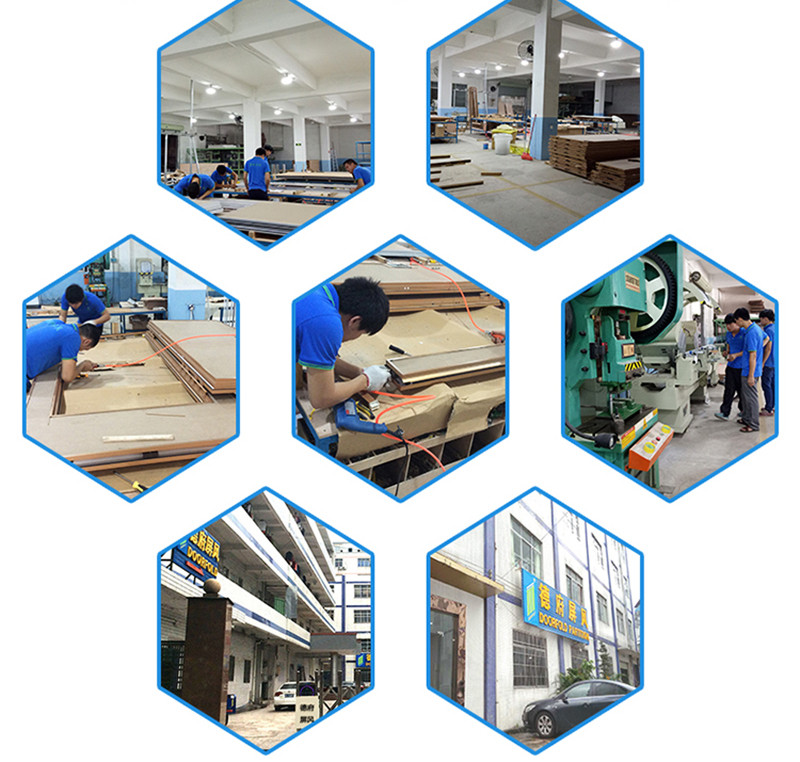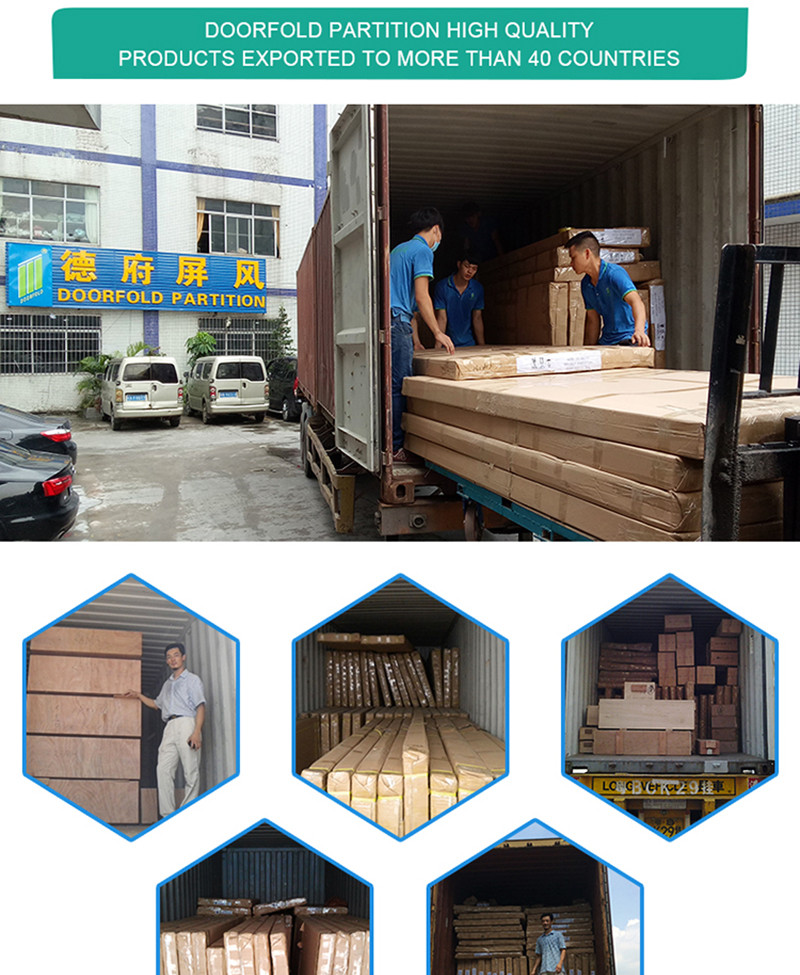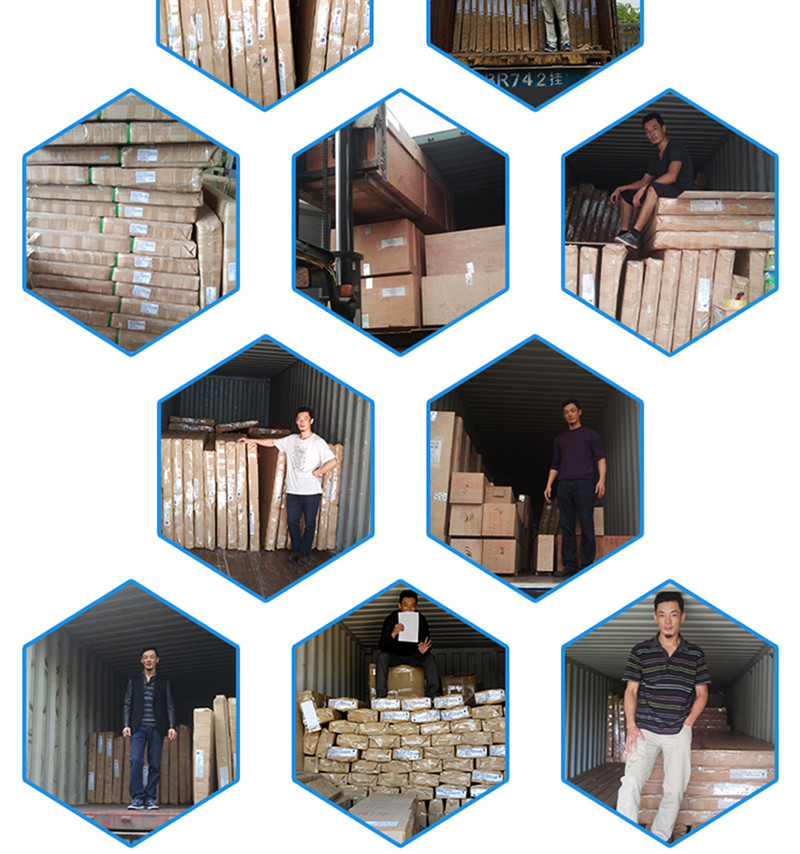 ◆ Certificate
More than 13years for the movable partition wall industry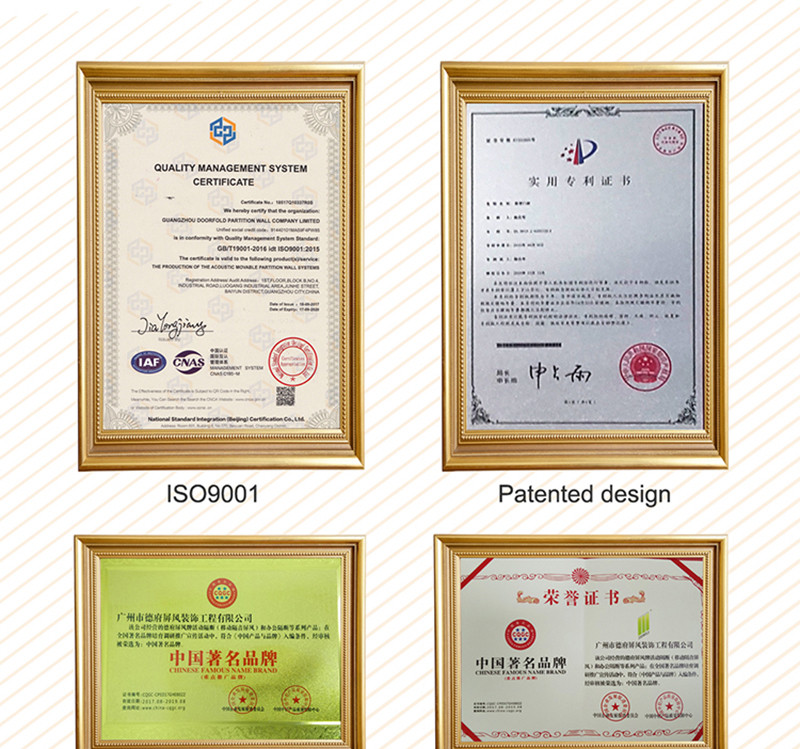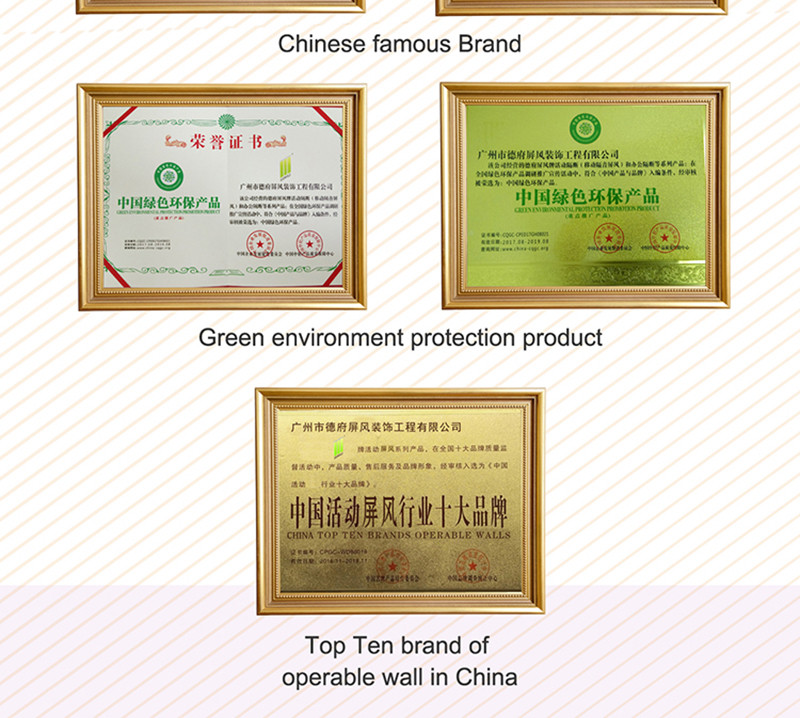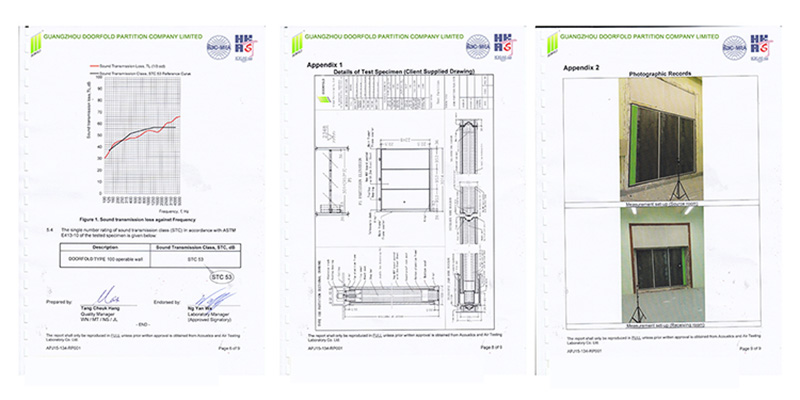 Sound insulation Test Report shows DF-100S panels maximum:STC 53DB
Company Features1.
Guangzhou Doorfold Partition Wall Co.,Ltd., is a well recognized manufacturer, wholesale supplier and exporter of a splendid range of acoustic movable partitions for acoustic partition.  - Guangzhou Doorfold Partition Wall Co.,Ltd., is more than just a real estate team, we pride ourselves in our expert abilities on how to market Hotel ballroom Movable Walls on social media.
2.
Get Info! Customers Are Happy With The Top Quality And Reasonable Price Of Doorfold movable partition's hall acoustic movable partitions, acoustic partition walls, hotel partition walls. Welcome To Contact Us For More Details.
3.
Whether we're talking room partition wall or conference room partition walls, our engineering heritage means we meticulously craft and develop our products to make them the very best in the market. - We can provide free no obligation detailed quotations for most jobs and if for any reason this cannot be done, we will do our upmost to ensure our labour costs are clear to you upon request before work is carried out. Or agree an alternative with you. Contact!