Company Advantages1.
glass partition wall is with the perfect glass partition walls for office to support glass office walls price. These products are assembled under the supervision of experts as per current industrial standards by utilizing finest grade components
2.
All these glass partition are carefully designed as per the industry set standards. Our clients appreciated our product range for their high quality and long service life
3.
Due to the willpower and industry acquaintance of our professionals, we have successfully maintained fruitful relations with clients. Movable Glass Partitions are widely used in offices and hotels and as bath ware as well
4.
Guangzhou Doorfold Partition Wall Co.,Ltd., is offering superbglass office partitions throughout the various infrastructure projects. Its unique movable design allows it to be placed at various places and reliable in working for long period of time
5.
Guangzhou Doorfold Partition Wall Co.,Ltd., provides glass office doors interior systems and line for highest demands. Our offered wall's portfolio extends from wide-area sliding walls of auditoriums and halls in major public facilities to room-in-room systems.
◆ Product Description
The Doorfold designing folding Sliding Wall Systems are ideal for any application where transparency, natural sunlight and versatility are required. Whether the purpose is to link or separate, add security, provide noise or thermal insulation for Indoor environment, Doorfold solutions are available in a variety of configurations to meet your design requirements.
Doorfold movable glass partitions are supported on tracks from above — no floor tracks are needed,the glass panels are fixed by floor pins when they are in opening to keep the safety and steady of the panels.
1000 to 1100mm width of the top and bottom aluminium clip to hold the 12mm thick tempered glass and hardware.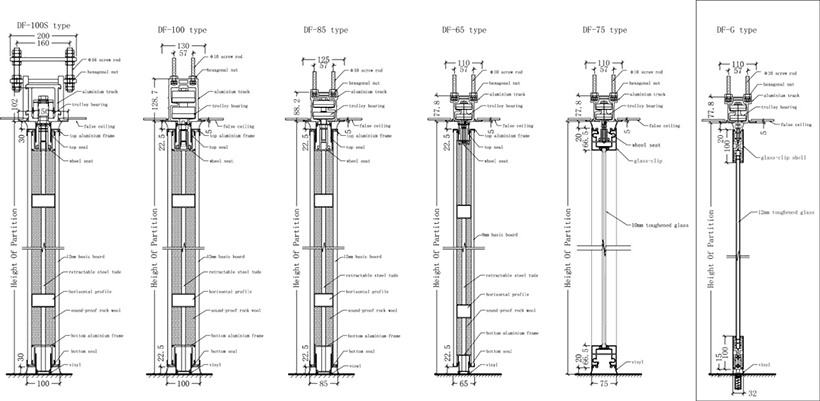 ◆ Product parameter
◇ Width: 500mm - 1100mm maximum.
◆ Thickness of panels:32mm
◇ Height: Up to 3000mm.
◆ Weight: average 32.00Kg/m2 for whole panels
◇ Panel Joint: Clear pvc joint
◆ Finishes: anodised or electrophoresis or powder coating to all exposed aluminium components available in a wide range of standard colors as required..
◇ Hardware and accessory: high quality stainless steel handle and hinge.more details please contact our sales persons.
◆ Sound insulation: Performance: About STC 15Db
◇ Packing :Paper Carton and Wooden Pallet
Company Features1.
Incepted many years before in the market, we are indulged in providing an inclusive array of glass partition wall which is highly acknowledged among our patrons for their supreme performance and sturdy construction.
2.
Think Twice Before Acting. Doorfold movable partition's glass partition, glass partition walls for office, glass office walls price Feature A Unique Combination Of New Design And Excellent Quality. Welcome To Visit Our Factory!
3.
Offered product range is extremely valued by our esteemed clients for its glass office doors interior features.