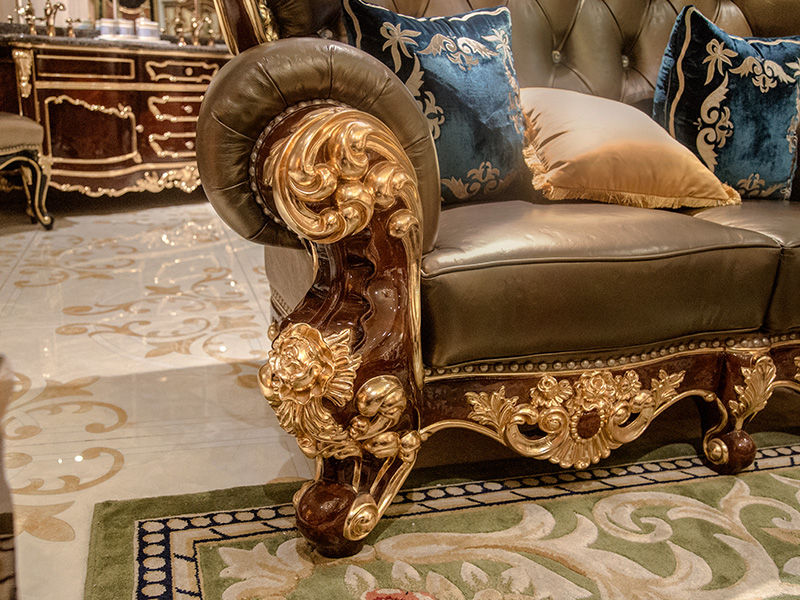 James Bond Trump card Classic sofa set, which would be a bright spot in your living room. A2820 classic sofa set made of below materials:
1、Beech wood, which is controlled between 8 degrees to 12 degrees, which reaching the international standard, so the sofa set will be hard, wear-resistant either easy to burst nor appear moldy and whitish phenomenon.
2、Italian first layer yellow cattle leather, and we use the whole leather cover process, which will not burst. Therefore, the sofa has a longer service life.
3、Belgian jacquard Fabric, which is warm in winter and cool in summer. It is dirt resistant, durable and the pattern is fashionable. (Sponge seat bag is used on both sides, combined with genuine leather and cloth)
4、14K gold foils,Stick by hand.
5、Painting with 3D stereo piano baking paint.
The carving is covered with a large amount of 14k gold foil by hand to make the sofa look more luxurious and dignified. The carved design in the middle of the top is like the crown of the king, next to which is the badge on the shoulder. No matter how much responsibility, when tired, sit on this soft and elastic classic sofa, enjoy your life.